Frankie Charipar, 82, of Leigh, died Friday, November 27, 2020, at the Faith Regional Hospital in Norfolk.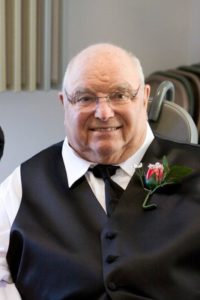 Covid Restrictions apply with masks required
SERVICE LIVE STREAMED ON KRACL FUNERAL CHAPEL FACEBOOK PAGE
No plants, flowers or statues please   The family requests Memorials to the Ricky Charipar Memorial Golf Course or Leigh Legacy
Funeral Service Tuesday, December 1, 2020, 10:30 A.M.
St. John's Lutheran Church, Leigh  Jerry L. Kracl, Officiating
Visitation Monday 5-7 P.M. at the church

Committal in the Leigh Cemetery with Military Honors
Due to Covid Restrictions there will be no funeral lunch
Frankie was born February 21, 1938, in Clarkson to Frank and Mary (Done) Charipar. He attended District #31 and graduated from Leigh High School.  He then continued his education in farm studies at Norfolk.  Frankie served in the United States Army National Guard until being discharged due to an injury.  On January 22, 1961, he married Darlene Severin at St. John's Lutheran Church in Leigh.  They made their home and farmed near Leigh.  Frankie farmed until his health would no longer permit it.  Over the years, he and Darlene were very active in the Leigh community.  They received numerous awards and much recognition including Quad State Conservation Award, Lower Elkhorn NRD Honored Farm Award and the Maple Creek Chapter Service Award.  Frankie was recognized not only in Colfax County, but Stanton, Platte and Saunders Counties as well.  Frankie's greatest love was his family and playing music.  An accomplished accordion player he was well known for the Frankie Charipar Trio and enjoyed making people happy with his music.  He was especially proud of serving with the Clarkson Czech Dancers.   In 1988, following the death of their son, Rick, they were instrumental in establishing the Rick Charipar Memorial Golf Course which has been a boom to the Hiway 91 area.   Over the years Frankie served on the Church Board, County Fair Board and others, too numerous to mention.
Frankie is survived by his wife Darlene, daughter Cindy (Michael) Settje, all of Leigh, three grandchildren;Tara (Kyle) Dlouhy and Alex (Paige) Settje of Leigh, Lauren (Stephen) Stoklasa of Schuyler, five great-grandchildren; Kaden, Kinlee and Teagan Dlouhy, Jase and Tate Stoklasa, a sister, Mary Ann Karel of Clarkson and brother, Marvin(Lianne) Charipar of Columbus, brother-in-law Gerald  Bahns of Salem, Oregon and many nieces and nephews.  He was preceded in death by his parents, in-laws Fred and Ethel Severin, son Ricky Charipar(1988), brother and sister-in-law Albin and Dorothy Charipar, sister Esther Bahns and brother-in-law Jerry Karel.