Doris Pokorny, 90, of Omaha (formerly of Schuyler) died Tuesday in Omaha.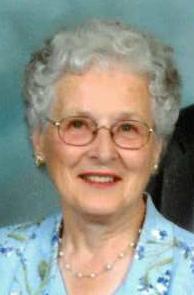 Mass of Christian Burial  Friday, January 31, 2020  10:30 A.M.
Divine Mercy Parish-St. Mary's Catholic Church, Schuyler
Rev. Gerry Gonderinger, Celebrant
Visitation Thursday 5-7 P.M. with 7 P.M. Rosary for Knights and Parish
Visitation Friday 9:30-10:30 A.M. at the church
Committal in the Schuyler Cemetery    Lunch in St. Mary's Social Center
Memorials to the Colfax County Senior Citizens Center
Doris was born April 14, 1929, in Schuyler to Stanley J. and Agnes (Jonas) Konicek.  She attended Schuyler schools and graduated from Schuyler High School in 1946.  Following graduation, in 1947, she was the first Aksarben 4H Rodeo Queen.  On May 12, 1949, Doris and Leland Pokorny were married at Holy Trinity Catholic Church of Heun.  They lived and farmed north of Schuyler and eventually retired and moved to Schuyler.  She was very active in St. Mary's Parish, the Guild, Schuyler Hospital Auxiliary and the Grandview Extension Club.  She and Leland were very involved at the Senior Center and were in charge of lining up the bus trips for the center and were very busy card players as well.  Over the years Doris was known for making mints for the weddings of her nieces and nephews. She made "thousands" of them as well as baking excellent kolaches.
Doris is survived by her children, Diane (Jim) Hand and David Pokorny, all of Omaha, two sisters-in-law, Mary Clare Konicek of McPherson, Kansas and Pam Konicek of Beloit, Wisconsin, brother-in-law Wayne (Nancy) Kehrli of Elkhorn, great family friend Marvin Slavik of Schuyler and many nieces and nephews.  She was preceded in death by her parents, husband Leland in 2012, daughter-in-law Shelley Pokorny in 2013, brothers Richard and Stanley Konicek, Jr. and brother-in-law Valgene Pokorny.