Claire Ehernberger, 95, of Lincoln and Schuyler, died Friday, December 20, 2019, at Tabitha Residence Cove House in Lincoln.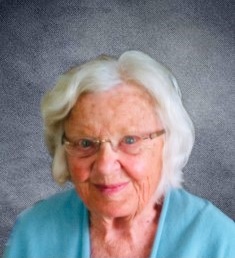 Funeral Service Saturday, December 28, 2019  10:30 A.M.
First Presbyterian Church, Schuyler, Nebraska
Visitation Saturday 9-10:30 A.M. at the church
Committal in the Schuyler Cemetery     Lunch in the church hall
Memorials to Handweavers Guild of Lincoln, Friendship Force International(Lincoln Club) or the First Presbyterian Church in Schuyler
 Claire (Richter) Ehernberger was born September 19, 1924 in Fond du Lac, Wisconsin to Leo and Viola (Nast) Richter. She graduated from Fond du Lac High School in 1942 and attended Carleton College in Northfield, Minnesota where she met Gerald (Jerry) Richard Ehernberger, while he was studying meteorology for the U.S. Army Air Force. She earned her Bachelor's degree from Carroll College in Waukesha, Wisconsin and began her lifelong career as an art teacher – first within the public schools and later to countless groups of children and adults in summer camps, after-school programs, and art associations. On December 30, 1949, Claire married Jerry in Fond du Lac, Wisconsin, and soon thereafter moved to Schuyler, Nebraska when Jerry joined his father, Gerald, and brother, Lumir, in the operation of the Golden West Grain Company.
Claire was an artist – in all senses of the word – to the core, in her earlier years enjoying painting, dance, and theater set design and later embracing many forms of fiber art, especially weaving as an avid member and past president of the Handweavers Guild of Lincoln, representative of the Handweavers Guild of America, and was active in Complex Weavers and Fine Threads. She was a member of the Columbus Area Artists and served on the advisory board of the Lied Center for Performing Arts in Lincoln.
With her dear companion Jerry, Claire loved traveling across the United States (especially her beloved Wisconsin) and around the world with the Friendship Force International (Lincoln club). Closer to home she was a decades-long member of First Presbyterian Church of Schuyler, Schuyler Hospital Auxiliary, Schuyler Book Club, and GRWC Schuyler Civic Club. In 2002, she received the Schuyler Civic Club's Woman of Achievement Award. Claire supported women's educational opportunities through her charter membership and past presidency of PEO Chapter HG, as well as membership in local chapters of American Association of University Women (AAUW) and University of Nebraska-Lincoln Women's Club. In her free time, she enjoyed playing bridge, doing water exercise, coffee chats with friends and family, and staying in touch with far-flung family members and friends through her use of the iPad and iPhone. She gained a particular sense of joy by surprising family members, friends, acquaintances, and even strangers with 'random acts of kindness' over her lifetime.
Claire is survived by daughters Heidi (Daniel) Hamilton and Marsha (Michael) Polys; five grandchildren, Siri (Shawn) Basak, Sean Hamilton, Nathaniel (Stephanie) Meier-Polys, Christopher Polys, and Kat Polys; one great-grandson, Oliver Basak; nieces, Bonnie (John) English, Kate (Steve) Ehernberger, Niki Ehernberger and Barbara (John) Horner-Ibler; and nephews, Richard (Penelope) Ehrenberger, Jack (Helen) Ehernberger, Paul (Valerie) Ehernberger, Ted (Gerda) Ehernberger, and Jim (Lori) Banker-Horner; and many dear friends. Claire was preceded in death by her parents; her husband, Jerry; her sister, Ann; and infant sons, David and Steven.