Eunice Marxsen, 90, of Schuyler, died Wednesday, October 31, 2018, in Fremont.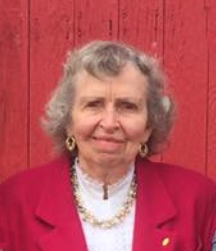 Funeral Service
Saturday, November 3, 2018, 10:30 A.M.
Christ United Methodist Church, Schuyler, Nebraska
Visitation Friday 5-7 P.M. at Kracl Funeral Chapel
Saturday 9:30-10:30 A.M. at the church
Committal in the Schuyler Cemetery    Lunch in church hall
Memorials to the church or the Schuyler Library
Eunice I. Marxsen was born October 26, 1928, in Johnson, Nebraska to Leonard and Blanche (Mort) Seckman.  While in High School she took Normal Training which allowed her to teach following graduation.  On February 27, 1949, she married Leland F. Marxsen at Christ United Methodist Church in Schuyler. After a few moves, they lived near Rogers and in the 60's, built and operated the skating rink, where the Casey's store is now located.  Eunice was active in ENCORE, working at the Industrial Training Site in Fremont with the handicapped, which she thoroughly loved and of which she was very proud. Eunice was a member of the church, ladies group at the church, the Schuyler Civic Club and Schuyler Historical Society.  She loved music and played the piano by ear.  She sang in the church choir and enjoyed crocheting, sewing, gardening and playing bridge.
Eunice is survived by her children; Larry and Vera Marxsen of Prague, Czechoslovakia, Craig and Jo Anne Marxsen of Schuyler, Maxine and Ron Poulas of Fremont, Gail and Dennis Pitzl, Waterloo, daughter-in-law Carol Marxsen of Lincoln, two sisters; Lolly Kroeger of Lincoln and Judy Lauterbach of Octavia, one brother, Jack and Lois Seckman of Schuyler, 11 grandchildren and 18 great-grandchildren.  She was preceded in death by her parents Leonard and Blanche Seckman, husband Leland, son Bruce Marxsen, sister, Maude Gless, brothers Charles and Eugene Seckman, three brothers-in-law and two sisters-in-law.