Dorothy Morgan, 94, of David City, died Tuesday, October 23, 2018, at her daughters home near Clarks, Nebraska.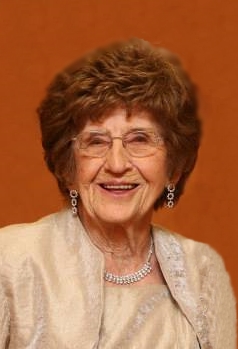 Mass of Christian Burial Saturday, October 27,2018  10:30 A.M.
St. Mary's Catholic Church, David City, Nebraska
Visitation Friday 5-7 P.M.  Rosary 7 P.M.-Kracl Funeral Chapel
Saturday 9:30-10:30 at the church
Committal in the St. Mary's Cemetery, David City
Lunch at the Butler County Events Center
In lieu of flowers, Memorials to Butler County Senior Citizens

Dorothy (Gall) Morgan, 94, passed away peacefully at home, surrounded by her loving family on Tuesday, October 23, 2018.  Dorothy was born on May 22, 1924 to Bernard and Johanna Gall in Bellwood, NE.
In her early years, she worked as a housekeeper for Dr. Ekeler. She was united in marriage to George W. Morgan on October 12, 1949 in David City, NE. They made their home in Ainsworth, NE before moving back to David City in 1950.
Dorothy also worked as a cook at St. Josephs's Villa for 20 years. She enjoyed her knitting club for 65 years, where good food and socializing were of equal importance! Dorothy was an active member and selfless volunteer of the American Legion Auxiliary…selling the most poppy's was her main goal every year!  Playing cards and serving brunch at the Butler County Senior Service was a joy in her later years.
She loved cooking and baking, with her specialty being an award worthy rhubarb cream pie! She had a passion for garage sales and could sell ice to an eskimo. She was a rare gem and the true epitome of loving and living life to its fullest. We were blessed to learn many valuable lessons from Dorothy in her 94 years, among them: everything can be reused and recycled including paper plates, foil, and wrapping paper. She was green before green was cool. But her main focus was her family. Her children and grandchildren were the pride and joy of her life. She enjoyed celebrating all of their milestones and was always the life of the party!
She leaves behind four children: Clifford (Sheri Hauschild) Morgan of Lincoln, NE; Kenrick (Marlene) Morgan of Seward, NE; Rachelle (Jay) Kuhl of Columbus, NE; Sheila (Steve) Tonniges of Clarks, NE, eleven grandchildren: Michael (Kelly) Morgan of Rochester Hills, MI; Gina (Jesse) Weir of  Lincoln, NE; Ryan (Amy) Morgan of San Francisco, CA; Eric (Rachelle) Morgan of Brainard, NE; Craig (fiancé Ashlie Zima) Morgan of Valley, NE; Dana (Chandra) Kuhl of Bennington, NE; Jordan (Sarah) Kuhl of Omaha, NE; Logan (Erin) Kuhl of Omaha, NE; Chelsea Tonniges of Omaha, NE; Lauren (Justin) Makovicka of Scottsdale, AZ; Brock (Jordan) Tonniges of Osceola, NE, fifteen great grandchildren, one sister, Betty (Fred) Miller of David City, NE, and a host of family and friends.
She was preceded in death by her parents, spouse, siblings (Marie Ronkar, JoAnne McLey, Bernadine Williams, Josephine Gall, Bernard Gall) and grandson Parker Tonniges.
In lieu of flowers, the family requests memorials to the Butler County Senior Service.