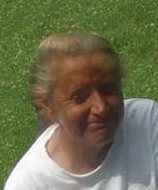 Betty Schoen, 60, of Schuyler, died Friday, September 28, 2018, at her home in Schuyler.
Funeral Service Thursday, October 4, 2018  11:00 A.M.
Kracl Funeral Chapel, Schuyler Nebraska   Jerry L. Kracl, Officiating
Visitation Wednesday 5-7 P.M.  Thursday 9-11:00 A.M.
Lunch at Tiny's Bar immediately following the service
In lieu of Flowers-- Memorials in care of the family
Betty Mae Schoen was born January 12, 1958, in Sioux City, Iowa to Melvin and Catherine (Beaubien) Foster.  She received her education in Sioux City Schools.  In the early 80's, Betty moved to Schuyler where she worked several years at Cargill Meat Solutions and then as a cook for the Golden Living Center in Schuyler.  Betty loved the outdoors, cooking and watching wrestling.  She was never more content than when she could spend time with her grandchildren.
Betty is survived by her life partner, Rick Youngbear of Schuyler, a daughter, Maria Schoen of Dakota City, Nebraska and son Michael Schoen, Jr. of Steamboat Springs, Colorado, six sisters; Nancy (Jerry) Chester of South Sioux City, Nebraska, Barb Harbison of Schuyler, Mary Manke, Fort Collins, Colorado, Phyllis Cooper, Kathy Foster and Rosie Ramirez, all of Sioux City, Iowa, three brothers; Melvin Foster, Schuyler, Phillip Foster, Fort Collins, Colorado and Michael Foster of Denver.  Also surviving are her four grandchildren; Benjamin and Gregory Cave, Dustin Hering and Abigail Schoen and her cat "Tigger".  She was preceded in death by her parents and two brothers-in-law, Lavern Harbison and Dave Ranabarger.