Jolene Fichtl, 60, of David City, died Sunday, August 28, 2016, david place  in David City.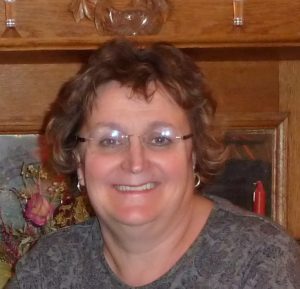 Mass of Christian Burial  Thursday, September 1, 2016   10:00 A.M.
St. Peter's Catholic Church   Bellwood, Nebraska  Rev. Ben Holdren
Visitation Wednesday 4-7 P.M.   7 P.M. Rosary  at the church
Visitation Thursday 9-10:00 A.M. at the church
Committal at St. Peter's Cemetery-Marietta
Lunch following in the church hall
Memorials to Family Wishes
Note: Flowers by JF will not take orders for Jolene's service.
Please call McClure's Flowers (402)352-2771
Jolene was born April 28, 1956 in Columbus, NE to Walter & Lorene Mick. She attended District 13 and graduated from David City Public High School in 1974. She married Frank Fichtl on October 12, 1974 at St. Peters Church in Bellwood. Since 1977 they lived on a farm west of David City, where they raised a family of three children. She enjoyed owning and operating the flower shop in David City, which was her passion and enjoyed being active in the community by being a 4-H leader, a part of the Future Generations Health Care Foundation, Farmers Daughter Extension Club, Bellwood Jaycees, and an active member at St. Peter's Catholic Church. Her family and friends were the most important aspect of her life.
She is survived by her husband, Frank Fichtl of David City; son, Clark (Michelle) Fichtl of Wichita; two daughters, Kim (Chris) Snyder of Roca, Anna (Chris) Kouba of Lincoln; seven grandchildren, Kade, Ava, Nora, & Elliott Snyder, Gavin, Chloe, & Violet Fichtl; mother, Lorene (Bruckner) Mick; four sisters, Shirley McDonald, Connie (Steve) Herrman, Jeanette (Joe) Birkel of David City, Deanna (Robert) Zegers of Bellwood; and many nieces and nephews.
She was preceded in death by her father, Walter Mick; in-laws Frank & Mildred Fichtl; and brother-in-law, Gary McDonald.