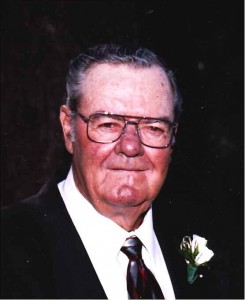 Marvin Belina, 80, of Schuyler, died Friday, March 18, 2016, at Lakeside Hospital, Omaha
FUNERAL SERVICES FOR
Mass of Christian Burial
Marvin Belina 80
Monday, March 21, 2016
10:30 A.M.
Holy Trinity Catholic Church
Heun
Rev. Leo Rigatuso, Celebrant
Visitation
Sunday 2-6 P.M.
Rosaries 3 and 6 P.M
Monday 9:30-10:30 A.M.
All at Heun
Memorials
Family Wishes
In lieu of thank you cards
Donations will be made by the family
Committal
Heun Cemetery
Lunch
Church Basement
Marvin Belina was born on the family farm near Howells on September 21, 1935, to Lad and Adella(Hamsa) Belina. After attending rural schools, he spent his life farming. On April 12, 1955, Marvin married Mary Ann Roubal at St. John's Catholic Church in Howells. He loved farming and after he and Mary Ann moved to Schuyler, he continued to "supervise" the farming operations of his sons. Marvin enjoyed playing cards, visiting the casino, cattle sales and traveling to Branson, Missouri with Mary Ann.
He is survived by his wife, Mary Ann of Schuyler, three sons;Paul(Barb) Belina, Clarkson, Dave(Brenda) Belina, Howells, Allan(Kim) Belina, Battle Creek, two daughters;Cheryl(Dick) Jakubowski, Norfolk, Laurie(Dan) Bazata of Howells, two daughters-in-law, Terri and Ardene Belina, both of Howells, a sister, Marilyn(Lawrence) Kasik of Richland, sister-in-law Mary(Chuck) Hawkins, Ft. Calhoun, 23 grandchildren, 22 great-grandchildren and many nieces and nephews. He was preceded in death by his parents, two sons; Rich and Jeff Belina and two brothers, Alden and Delvin Belina.