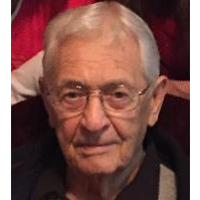 FUNERAL SERVICES FOR
Richard J. Humlicek 92
Mass of Christian Burial
Friday, February 19, 2016
10:00 a.m.
St. Mary's Catholic Church
David City, Nebraska
Rev. Bernard Kimminau
VISITATION
Thursday 4-7 P.M.
7 P.M. Rosary
Kracl Funeral Chapel
Friday 9-10:00 A.M.
at St. Mary's Church
MEMORIALS
Family Wishes
COMMITTAL
St. Mary's Cemetery
Military Honors
LUNCH
David City Auditorium
Send your condolences to the family of:Richard
Your condolences and memories will not be displayed on this site.
They are shared only with the family
Richard J. Humlicek, 92, of David City, died Sunday, February 14, 2016, at his home
in David City.
Richard was born Ocotber 16, 1923, in Ulysses, Nebraska to Cyril and Ida Rose(Pospichal) Humlicek.
He graduated from David City High School and enlisted in the United States Army. While serving his
country, Richard married Betty Jean Wilson in Virginia Beach, Virginia on December 22, 1943.
Following the war, they moved to David City where Richard ran the Butler County Produce Company
and later worked for the Butler County REA as an accountant. He delivered Meals on Wheels for
many years, loved spending time with the children and grandchildren, and enjoyed playing pitch and
bridge. He was a member of the church, David City American Legion and had served on the David
City Volunteer Fire Department.
Richard is survived by seven daughters;Sharon Bennett of Grand Island, Silvia Noonan, Lincoln,
Jeanne(Mark) Ingwersen, Sue Jelinek and Mary Romshek, all of David City, Beth(Todd) Hottovy,
Lincoln and Barbi Rasmussen of David City. Also surviving Richard are his son, Richard J.(Angela)
Humlicek, Jr. of Omaha, a sister, Gloria(Joe) Firmature, Omaha, brother-in-law David(Jean) Wilson,
Linwood, 25 grandchildren, 36 great-grandchildren and one great-great-granddaughter. He was
preceded in death by his parents, wife Betty Jean(2009), grandson Mark Romshek(2002), two
sisters;Mildred Styskal and Irene Stier and his son-in-law, John Palik.