Mary Ann Crook, 76, of Rising City, passed away peacefully at Brookestone Acres Skilled Nursing and Rehabilitation with her family by her side, on Saturday, January 30, 2016.  Mary Ann fought a long and courageous battle with Myelofibrosis.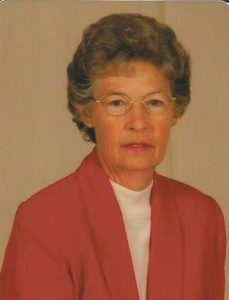 FUNERAL SERVICES FOR Mary Ann Crook    76
Friday, Feb 5, 2016 10:30 A.M.
Faith Lutheran Church Rising City, Nebraska Rev. David Schultz
VISITATION Thursday 4-7 P.M. Kracl Funeral Chapel
Friday 9:30-10:30 A.M. at the church
MEMORIALS Family Wishes
COMMITTAL Circle Mound Cemetery Rising City, Nebraska 
Mary Ann was born on Nov. 7, 1939, on the family farm south of Rising City, NE.  She was the daughter of Frank J. and Rosie L. (Konrad) Vavra.  She attended the Greenleaf Country School through the eighth grade and then attended and graduated from Rising City Public Schools in 1957. On January 11th, 1958, she married Walter K. Crook and to this union four children were born. Michael, Diane, Bruce and Denise. During her lifetime, Mary Ann worked at Farmer's State Bank, Becton-Dickinson, Agricultural Stabilization & Conservation Services, and Farmer's Cooperative Elevator.  Mary Ann co-owned the Rising City Dairy Queen which many community members enjoyed. She also owned and operated Crook Lawn Service for ten years and co-owned WMB Ag Sales for 15 years. Mary Ann, along with her husband, Walt, owned and managed Crook Addition Apartments from 1978-2002 and was instrumental in helping to develop the north edge of Rising City.   Mary Ann was a strong believer in county and community organizations. She was a member of the Friendship Club for over 50 years, a member of the Coffee Club for 46 years, a member of the Eastern Star and Daughter's of the Nile for many years.  Mary Ann also helped to organize and was the first president of the Butler/Seward Porkettes Association.  She then became the president of the Butler County Porkettes.  Mary Ann also served on the Rising City Board of Education for ten years. Mary Ann was an excellent cook and baker and was known for her fantastic peach crisp and kolaches.   She loved the outdoors and especially enjoyed gardening, canning and flowers.  She also loved going to Husker football games and could be found many nights watching or listening to Husker volleyball and basketball games on the radio or TV. Mary Ann loved her children very much and enjoyed spending time with her grandchildren and great grandchildren along with attending their school and sporting events and 4-H activities while they were growing up. She is remembered with love by her husband of 58 years, Walter, her three children and spouses, Michael Crook of Rising City, NE; Diane (Jeffrey) Duren of Rising City, NE; Denise (Doug) Tonniges of Gresham, NE. Grandchildren are Daryl Crook, Rising City, NE; Holly Crook, O'Neill, NE; Shauna (Sam) Soulliere, Lincoln, NE; Joni (John) Crumrine, Lincoln, NE; Audra Duren, Chicago, IL:   Stephanie Crook (fiancé Nathan Laska), Duncan, NE; Janice (Grant) Swenson, Des Moines, IA; Heather Crook (fiancé Kevin Kucera), Cedar Bluffs, NE; Sheila (Allen) Stanek, Valparaiso, NE; Kayla Kilgore, Papillion, NE; Eric Tonniges, Gresham, NE; Amber Tonniges, Gresham, NE. Great- grandchildren are Quinn Soulliere, Ellie Ann Crumrine, Avery Lee Crumrine, Hudson Swenson and Brennon Swenson.  Siblings are Helen Prochaska, Ulysses, NE; Paul Vavra, Rising City, NE; Dorothy (Ronald) Ruth, Rising City, NE;  Maxine Reinke, Columbus, NE; Doris (Randy) Henderson, Maricopa, AZ,  along with her brother-in-law Alton Crook and wife, Lois, of Fremont, NE; daughter –in-law Linda (Terry) Bartunek and many nieces and nephews; family and friends. Mary Ann was preceded in death by her parents, father-in-law Keith Crook, mother-in-law Gladys Crook, and son, Bruce Keith Crook.