Wilma J. Kobza, 76, of David City, died Wednesday, May 26, 2021 at her home in David City.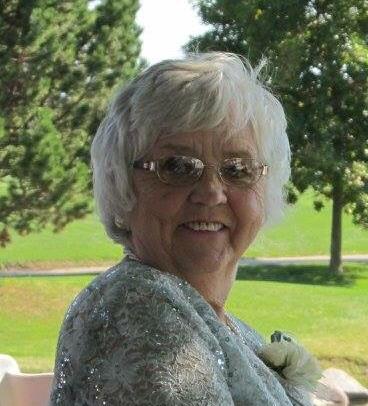 Memorial Mass
Tuesday, June 1, 2021  10:00 a.m.  St. Peter's Catholic Church, Bellwood, Nebraska
a "May Crowning" will take place following mass in the Grotto
Concelebrants, Rev Ben Holdren, Rev. Jay Buhman
Visitation 9:00 a.m. Tuesday,  Rosary 9:30 a.m. at the Church.
Lunch following services in the church hall
Wilma's wishes were to donate her body to science, and a private committal will be held at a later date at St. Mary's Cemetery in David City.
Wilma would love to be remembered with Masses in her honor. In lieu of flowers, plants or statues please consider a donation to "Feathers from Shelly" a compassionate cancer outreach program founded by her granddaughter,       Megan Kucera. 
Wilma Jean (Cockson) Kobza beloved mother, grandmother, sister, aunt and friend passed away peacefully at her home, in the company of her daughters, on the morning of Tuesday, May 26th a date of profound significance as it is the birthday of her first grandchild, Justin Kucera. Wilma was born May 18, 1945 to Ruth (Egger) and Edward J. Cockson in Columbus, NE. She was the sixth daughter in a family of what would eventually be nine children. She was named "Wilma" after the doctor "William" who, after having delivered her along with her five older sisters when her parents searched for another girl name, proudly suggested she be named after him. Wilma grew up in Bellwood, NE first on a small farm, later moving to town after the untimely passing of her father. She attended school in District 13, Bellwood Grade School and High School, followed by her eventual attendance at (the then newly opened) Aquinas High School graduating in 1963. Shortly thereafter, Wilma married Lee Kobza, and had three daughters whom they raised in David City, NE, where they also owned and operated the Country Market. In the years that followed, Wilma worked at the Eberly Tax office, the Duren CPA firm as well as serving as Secretary of St Mary's Parish Rectory for a number of years. Later in life, Wilma moved to Lincoln where she worked for the State of Nebraska. In 2009, Wilma retired, moved to Rhode Island where she pursued a second career as a professional Grandma, before returning home to David City in 2012 where she resided at Sunshine Court until her passing. Wilma was a devout Catholic no matter where she lived - an active adorer of the Blessed Sacrament and regular at Holy Hour. Wilma was most active in St Mary's Church, as well as in numerous school and community organizations over the years, including: serving on the P.C.C.W, involvement in the Guild and Seminarian Club, organizing the Prayer Circle, participating on numerous committees for St Mary's Elementary and Aquinas High Schools, including those responsible for delivering the first St Mary's Soup Supper and starting St Mary's first Preschool just to name a few. She was active in the Jaycees and worked on the Bicentennial Committee.  Wilma loved participating in Community Theater, a talent she rekindled from her early days and enjoyed performing into her final years. The joy of her life was her Faith, along with her family and friends. She enjoyed movies, music, and a cold Pepsi-Cola and was a talented poet who often gifted friends and family with her beautiful writings in elegant cursive penmanship. She had a delightful sense of humor and kind heart - gifts she shared with all of those who knew her until the very end. She had an abundance of wonderful friends - old and new - and will be dearly missed by so many. Wilma is survived in death by two daughters; Suzi (Randy) Tamerius of Lincoln, NE and Stephanie (John) Crowley of Westerly, RI, six beautiful granddaughters; Megan Kucera, Stacy Tamerius, Allison Tamerius, Maggie Tamerius, Bailey Tamerius and Abby Ruth Crowley as well as her "very handsome" grandson John Crowley, son-in-law Mike (Jana) Kucera and siblings; Pat Haynes, Mary Stemper, Betty (Dennis) Klawonn, Jim (Chris) Cockson, Joe (Lois) Cockson and Deb (Ken) Schroeder. In addition to her parents, she is preceded in death by her beloved eldest daughter Shelly Kucera, her first-born grandchild Justin Kucera, as well as her sisters; Dorothy Liebschwager and Joann Weaver.